SIAN:
Origin: Welsh, for 'Jane' (Hebrew). Meaning: God's gracious gift.
And because my mom threw it out there, we always pronounced it "Sigh-Ann". Actually? Sian has two possible pronounciations: Sharn or Shahn. So, oopsy, but I like the spelling, and our pronounciation of it, so it's not changing one bit :)

Personality/characteristics: out and out mama's girl. This is my baybee. Snuggly and sweet, sticks close by and gets depressed if she doesn't see me as often as she thinks she should. Was a hilarious "little sister" with Yogi while Pixie was with us. After Pix's passing, that dynamic dissolved. These days, Sian spends more time with Hiko. She as the leader, he the follower.
YOGI:
Origin: Indian (Sanskrit). Form of: itself. Meaning: Master of oneself.
I'll say this: I named Yogi...well, Yogi, because he reminded me of the cartoon. No other reason. But the name fits, and he is kinda fitting into the actual meaning (thanks to my one and only Pixie).

Personality/characteristics: I should break this up into WP (With Pixie) and AP (After Pixie). WP: Pixie's bonded cagemate. Doofball. Big brotherish (with Sian). Could be snuggly, always sweet.
AP: once again, a self-perceived "alpha." Dominating (with Hiko), would bully Sian more but he can't get away with it; more of a loner, though still people-sweet; won't go out of his way to spend a large amount of time with us, though he has his snuggly moments. Not really agile or quick. When he tussles, he uses brute force mostly.
PIXIE (2005 - 2012):
Origin: Celtic and/or Swedish. Form of: piskie or pyske. Meaning: playful sprite; small fairy.
Okay, you see where this one came from, right? Altered jill=sprite. Pixie=sprite.
Personality/chacteristics:
effortless leader; teacher; highly maternal. Spunky and definitely had her own opinions about things. Got more cuddly as she got older, but still not one of her favorite ways to spend her time. Explorer. Definite climber. Could wrestle the bejeesus out of
anyone
.
The following description somehow just .... fits:
Have e'er you seen the Pixies, the fold not blest or banned?
They walk upon the waters; they sail upon the land,
They make the green grass greener where'er their footsteps fall,
The wildest hind in the forest comes at their call.
The Pixies--
Nora Chesson
Oh, how we miss you, sweet baby. DIP, love.
HIKO (Gotcha November 2010 - 2013):
Origin: Japanese and Inuit. Meaning: (Japanese) Boy; (Inuit) Ice. There, apparently is a Native American meaning of the word, too, which is used as a term for the phrase "white man's town."
Of course, I picked this because smoosh the Japanese and Inuit together? "Ice boy," for a lightly sprinkled silver ferret (kinda like shadows on the ice field! eeee!).
Personality/characteristics: shows Waardy characteristics. A little socially awkward with ferrets, loves to investigate and get cuddles. When sick, he's a lap ferret through and through. When he's well, he likes frequent, brief pets and kisses. Is a climber. And a screamer. And a follower, if he doesn't get bullied. Mostly friendly with Sian.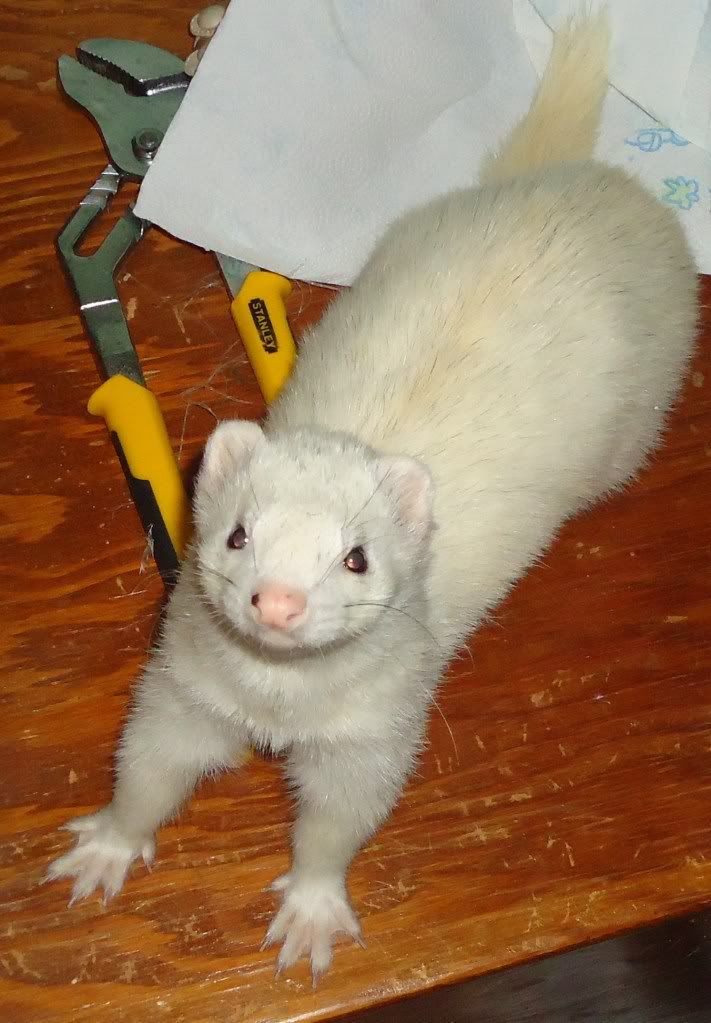 RULA (2011 - 2014):
Origin: English, Latin, Arabic. Meaning: Commander, ruler.
This is, honestly, another Mom-picked name. We didn't know the meaning until after I got her and named her it (my mom had thrown it out there a long time ago. I had always liked it, and kept it in the back of my mind in the event of ever getting another female. Which. You know :D :D :D)
Personality/characteristics: (with me) hyper, nippy, clingy. Likes to give kisses and hang around me. Is fearful of other ferrets besides Neera, but comes to accept them if they don't bully her. Avoids most other people besides me.

I just hope you know that I love you, sweet girl, with all my heart, and I'm so, so sorry that I couldn't spend as much time with you as you needed after Neera passed away. I always knew you missed her terribly, and needed me to make up for your loss, and I couldn't. I didn't. Be happy, now, you are with your sister again. I know that's all you've wanted. My girl, my lovely little girl.
NEERA (2011 - 2013):
Origin: Spanish, Greek. Variant of: Deyanira. Meaning: devastating, capable of great destruction.
Another Mom-picked name. When integrating Rula with the big guys failed spectacularly, I decided to go back and get another kit (singlets are hard!). I already knew I wanted a female, and I knew what the colors of the kits were, since we had gotten to the store, to pick Rula up, before they had even arrived at the store from the transporter. They were three, a chocolate sable (Rula) and two champagnes. With that, the evening before we were to go to the pet store and get another kit, my mom (as she is wont to do) started throwing out names. Once she said "Neera" it stuck. Much like with Sian, Neera was named before I had even picked her out.
Personality/characteristics: usually calm, laid back; thinker of the pair, will tolerate other people. Is the self-perceived "alpha" between her and Rula, and will get upset if something threatens that perception (like another ferret).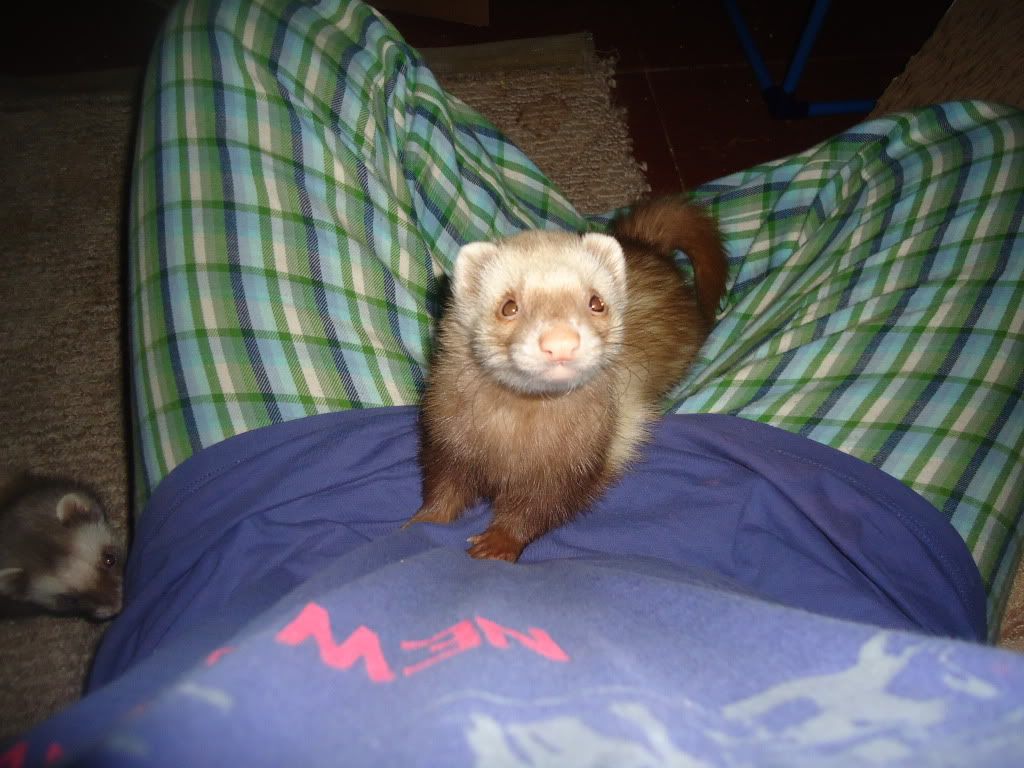 I still can't believe you're gone. It was so sudden and unexpected that I can't wrap my mind around it to this day. But I can say this: I am happy I got to share in your life. I will always, always be thankful for that, for being able to know you as the wonderful being you are. Watch over Rula, wherever you are, she still needs you. With all our love, baby girl, rest easy.
ANYA:
Origin: Russian, Sanskrit, Hebrew. (Russian) Diminutive of: Anna. (Hebrew) Derived from: Hannah. Meaning: (Russian, Hebrew) gracious, bringing good favor. (Sanskrit) inexhaustibleness. Also, in Hungarian means "mother."
Another Mom-picked name, how many does that make? This little girl was surrendered to a local PetCo, where I immediately snatched her up, since she was special needs (deaf, adrenal). I sent my mom a few pics of her and my mom, doing her thing, began thinking of names. Anya was thrown out there and it just clicked, from where I was watching Anya cruise around the confines of my sister's apartment bathroom.
Personality/characteristics: my newest fert-y. I'm still learning who she is. So far? Very sweet, very intuitive. Very dependent on her patterns and rituals. Will throw tantrums by alligator rolling on my feet or at nothing. Not cuddly by any means. Fearless. An explorer. Stubborn.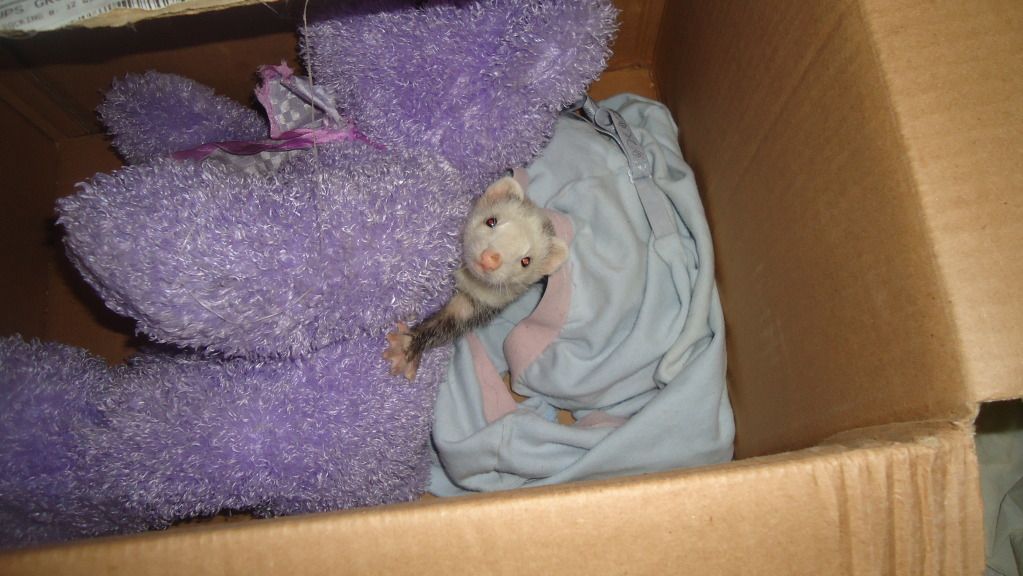 ______________________________________________________
Current incarnations of playgroups (and the nicknames I come up with for them) are as follows:
"The Big 3"/"the big guys": Yogi, Hiko, Sian
"The babies": Rula and Neera
And then there's my singlet (though I've hopes of integrating her with the babies): Anya
Universal pet names: "bubsy," (I don't know, it just started happening), ferritsy (ferritsies), or sweet baby.
Although Rula and Neera are "the babies," Sian is often known as "
my
baby."
Yogi is sometimes known as Yogi Terror, Yogi Bear, Mr. Yogi, or Yogs. Sometimes, as well, I'll call him my sad puppy.
Past terms you may see in the blog:
Pixie was known as Miss Pixie, Miss Pix, or just Pix. For posts including her, go
here
.
Pixie and Yogi were "the lovebirds."
Yogi and Sian were known as "the twins," back in their heyday.